Cryosauna features
The Cryosauna is a single-person cryogenic chamber used for individual applications of Whole Body Cryotherapy based on nitrogen cooling technology in most cases.
During the cryotherapy session, the temperature is regulated by the operating staff within the range of -220°F to -260°F.  The sessions time in cryosauna ranges from 1 to 3 minutes.  The cryosauna  is equipped with an electric lift, so the client inside is submerged in the liquid nitrogen fumes up just to his/her neck, while the client's head is held above the cryogenic air. Many curent cryosaunas have a many safety features.
During the whole body cryotherapy session, clients wear minimal protective clothing (gloves, socks, and other cotton underwear) and remove all metal accesories as watches or necklases.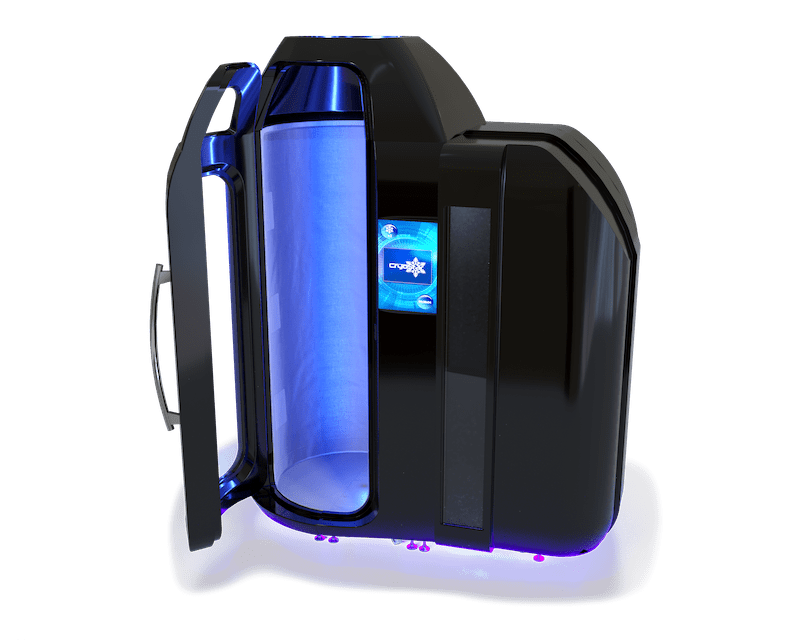 The cryotherapy chamber offers the following features:
The coldest temperatures reached via any direct or jets injection of nitrogen inside cryosauna with features of the most even cold distribution throughout the cryosauna.
An electric lift system should easily adjust clients to a safe position based on their height
An oxygen monitor at the level of the client's mouth which is tied into the computer system to ensure the client only breathes room air at all times (only product on the market to offer this feature, designed by Cryohealthcare)
A door of cryiosauna avoids leaking of nitrogen. Also it should have safety benefit as stop sensor if client opens the cryosauna's door during cryo session
An easy to use menu on touch screen controller and fully automated software, which allows the operator of cryotherapy chamber to focus on the client at all times without making extra adjustments to the cryosauna.
A dual exhaust vent built in the cryosauna  to remove all used nitrogen from the treatment room. Ventilation is required by law for any direct-injection cryosauna. Installation of cryosauna complies with regulations from local and state fire departments.
Distinguished by it's unique and modern design and innovative technologies on board, the CryoStar cryotherapy chamber is the most recognized and trusted cryosauna on the market, used by more medical and wellness professionals and famous athletes than any other cryosauna.