Equipment which perfect fit for your Business
When it comes to businesses in the cryotherapy or weight loss industry, no one understand your needs better than VACUACTIVUS. Our unique cryotherapy chambers, rehabiliatation and weight loss equipment are designed to meet your expectations as well as the demands of your clientele. Whether you are just setting foot in the cryotherapy or weight loss industry or upgrading your existing facility, VACUACTIVUS ensures that your investment is worthwhile. We offer the opportunity to rent and buy cryo saunas and sport rehabilitation machines that promises quality, value, and long-term benefits.
Our cryotherapy and weight loss equipment is unique in every sense of the world. It is not just the technological advancement embedded in it, but also the smart design that supports that technology while increasing the aesthetic appeal and enchance athlets conditions. Our clients include cryotherapy studiosm fitness centers, spas, rehabilitation offices, gyms, doctor's offices and other businesses with core focus on health and exercise, and also facilities such as clubs, hotels, and activity centers where this equipment is part of the amenities.
A Unique Mix of Technical Innovation VACUACTIVUS has set new standards in cryotherapy and weight loss equipment industry by seamlessly merging a range of technologies and therapies together. Our machines combine cryotherapy sessions with hydrotherapy, massage therapy, aromatherapy, color therapy, and heating rays, to name a few.  From our basic machines for weight loss to advanced aquatic sport rehabilitation equipment, every product is engineered by a brilliant team that understands the techniques and the way they are used for fitness purposes.
A Distinctive Use of Aesthetic Design
A Distinctive Use of Aesthetic Design Supporting the technology is a design that allows our cryotherapy chambers and weight loss machines to enhance the aesthetic appeal at your facility. Available in custom colors, our equipment boasts an ergonomic design that promises comfort and better results for your clients. With color customization, you can actually match all of the equipment, including water exercise equipment and weight reduction equipment, to the existing color scheme in your facility.
A Diverse Range of Capabilities at VACUACTIVUS as producer of cryotherapy chambers and weight loss devices, innovation never stops. We keep merging technologies and therapies based on our understanding of the cryotherapy and sport rehabilitation industry and your clients. Our unique products include cryo saunas, whole-body cryotherapy chambers, aquatic sport rehabilitation equipment, cellulite reduction equipment, weight loss machines and aqua spinning equipment. Most of the equipment merges exercise as well as massage and cryo sport therapies to serve a multitude of purpose and maximize the benefits and value your customers get.
While all of these distinguishing factors make us a competitive choice, VACUACTIVUS goes out of its way to make sure you are getting great value and cost-effective solution. For rent and leasing of our unique and modern cryotherapy machines and weight loss devices, please contact our international sales team via email [email protected] or simply call us.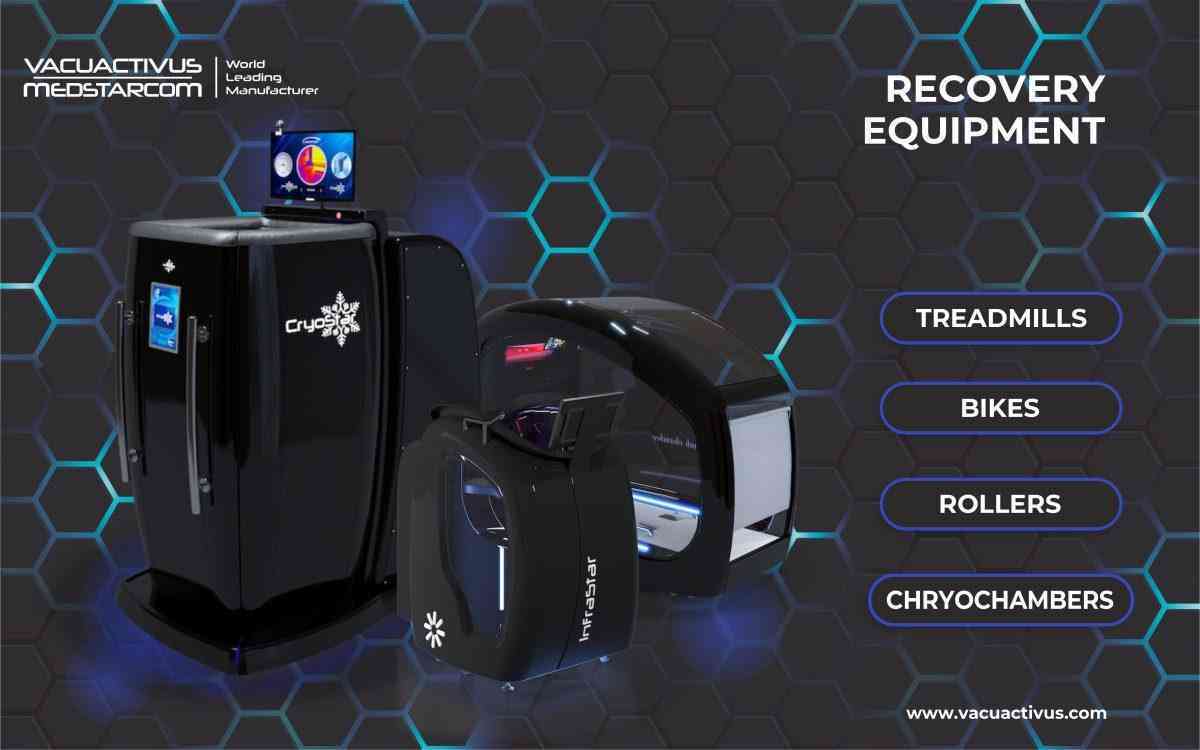 Go ahead with world leading manufacturer and supplier of cryotherapy and weight loss machines!
VACUACTIVUS Brings Innovative Cryotherapy and Weight Loss Equipment with Unique Aesthetic Value
Offering a Diverse Range of Cryotherapy and Weight loss Products for Different Types of Businesses, VACUACTIVUS  as world largest producer of whole body cryotherapy chambers and sport rehabilitation and weight loss machines allows the Customers to Customize their Equipment with Different Colors
VACUACTIVUS, a fairly fresh cryo and weight loss equipment manufacturing company, has recently created quite a stir in the cryotherapy and sport rehabilitation industry with its huge range of cryo chambers and sport rehabilitation for sale. Uniquely engineered and creatively designed, VacuActive equipment has garnered much praise from its clientele. It was represented on many fitness and spa trade shows such as FIBO, IHRSA, FitExpo, iSPA, Beaty World and other fitness and spa fairs. Also our innovative fitness equipment has also bagged several awards including a many awards on world trade shows. With its currently expanded and enhanced line, VACUACTIVUS is offering its customers the ability to customize the color of the cryotherapy and weight loss equipment as per their requirement.
According to the spokesperson for the company, this unique customization feature is what offers exceptional value for their customers. Explaining how it can positively affect their business, the spokesperson said, "When it comes to cryotherapy businesses, creating the right environment is very important. Aesthetics of the cryotherapy facility can actually play a positive role in bringing and retaining more satisfied customers. Smarter use of colors and combinations can actually have a positive impact on their client's. While it casts a great impression on those who walk in to check out the facility, it also offers motivation and energy during the weight loss workout or cryotherapy session."
However, the spokesperson also said that despite the customization options, performance is still the primary focus of the company. One of the unique factors that VACUACTIVUS highlights as its crown jewel is the technology they have used to create a range of unique products for cryotherapy, sport, rehabilitation and weight loss sessions. VACUACTIVUS is currently the only company that has combinedcryotherapy chambers with infrared treadmills, bikes and elliptical fitness equipment with the advanced technology such as aromatherapy, vacuum cellulite-reduction massage, infrared heating system, aquatic rehabilitation biking under water and collagen lamps, etc.
The spokesperson also stated that VACUACTIVUS is engineered a designed to offer desired results as well as a comfortable experience to the users. "We have innovated almost every aspect of cryotherapy chambers together with weight loss machines. It's not just an amalgam of effective and advance  "cryo+infrared" technologies, it is also the design that incorporates the best of these technologies in the most comfortable way possible for the users," the spokesperson added.
VACUACTIVUS machines include unique products such as cryo saunas, aqua biking equipments for sport rehabilitation exercise, hydrotherapy equipments, cellulite reduction equipment, and weight-loss equipment for business such as cryotherapy studios, gyms, fitness centers, clubs, medical offices, hotels, and spas, etc. The company also offers lease and finace options for whole body cryotherapy chambers and weight loss machines in partnership with reputable leasing companies.
For more information, please contact our sales team: T +1 310 4679723 or e-mail: [email protected]