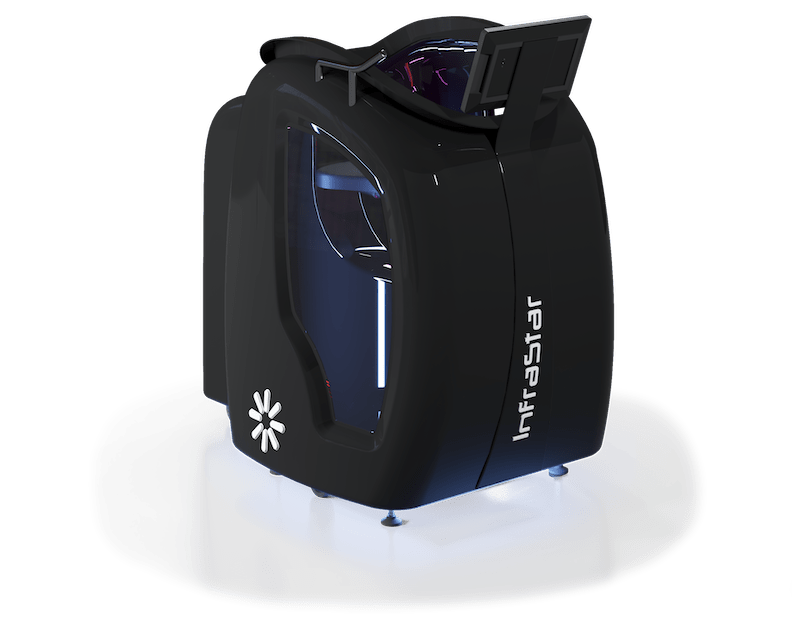 Bicicleta de vacío infrarroja: la tecnología detrás
The Infrastar Sole leverages customary exercise, by merging various wholesome techniques and effects into one appliance. It's benefits are as follows:
Tecnología de gravedad cero
Zero gravity is another term for weightlessness, which provides extra intensification to muscle work. The Infrastar Sole draws out all the air from the device capsule, this creating an absence of gravity and negative resistance. Negative resistance reps are an efficient way to build stronger muscles and make tendons and ligaments more resilient. Thanks to the improvement of blood and lymph flow, it also beneficially affects problematic body areas and enhances rehabilitation processes.
Rejuvenecimiento Celular
Pairing vacuum resistance exercises with infared therapies intensifies the metabolism. This nourishes the tissue more and increases cell oxygenation. It positively affects regeneration and muscle building, which is specifically practiced by athletes and those who subject their bodies to hard physical strain daily. The intensification of the metabolism also helps build up the immune system and gets rid of stubborn fat.
desintoxicación
Stimulation from sweating is utilized not only in sports, but also in rehab practices. Sweat secretion is a natural way to detox your body, release energy, and expel unwanted calories. The infared heating increases sweating, this removing residual water and toxins from the body to boost your immune system. The Infrastar Sole exercises provide maximum opportunities for accelerated sweating in a low-impact muscle operation.
Producción de colágeno
Anti-aging and anti-cellulite treatments rarely go without collagen therapy. Collagen is the protein found in connective tissues. Accounting for 30% of all protein in the body, it is massive in skin, bones, cartilage, teeth, blood vessels, tendons, and ligaments, and is responsible for structural support and elasticity. The infared enhances the production of collagen in the skin and deeper tissues, resulting in both elimination of cosmetic imperfections, improved health and resilience. 
Recuperación Muscular
Repair of affected muscle tissue, is essential for the prevention of injuries caused by unnecessary strain, and the elimination of harm to tendons and bones. In the InfraStar Sole, we use unique CryoNick technology, a mix of cryo and infrared treatment, to recover the homeostasis level. Cryonick alternates between hot and cold temperatures, which helps bring good-for-you nutrients and oxygen to the starving cells and tissues. This reduces inflammation, boosts fluid movement, and hastens recovery.
Skin Ozonation
The ozone generator embedded in the InfraStar Sole appliance, refills skin with o2 instead of o3 which rebalances the immunological function, thus favoring skin condition. Body cells receive extra levels of oxygen, which allows them to utilize it in accelerated cell production and tissue restoration. The healing processes of wounds, scars, and ulcers are stimulated.
Aromaterapia
During the session, the Infrastar Sole targets the skin tissue using special aroma oils. The healing components of the oils reduce inflammation, reduce bacteria, and promote rejuvenation. Aroma oils advocate for acne-prone, dry and oily skin and other skin conditions. Their tiny molecules are easily absorbed for a fast and ongoing effect.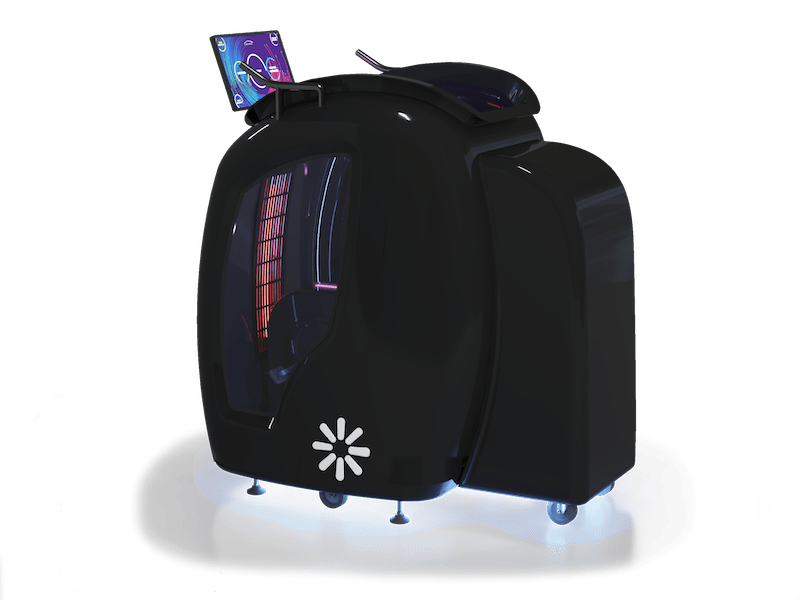 Contorno corporal optimizado y desintoxicación
The Infrastar Sole is a refactored capsule tool for sports routines, rehabilitation practices, and tailored body shaping. We have upgraded our older vacuum bike models by combining next-generation technologies and usage with convenience, to create a better customer experience. While the hi-tech solutions we've incorporated are helpful for health and beauty in isolation, smartly blending them, we've obtained a transformational fitness capsule breaking new ground in body contouring, detox, and inch-loss programs.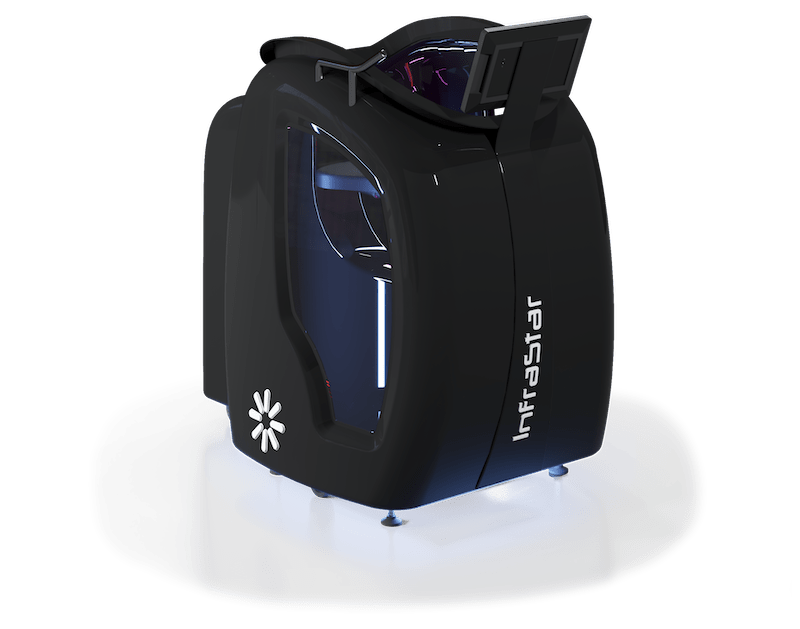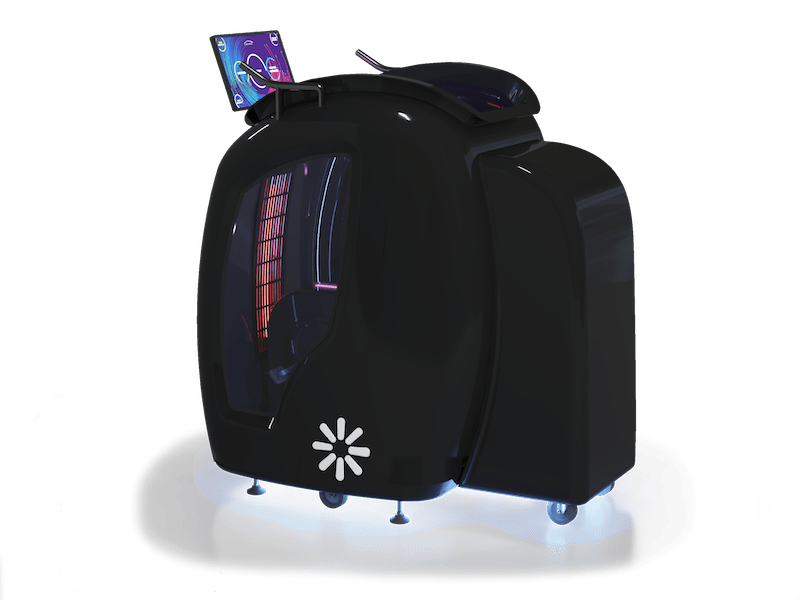 Suela InfraStar: Principio de funcionamiento
Our latest infrared bike is a brand-new fitness appliance exhibiting outstanding features. Thanks to these features, it has become distinctive among other devices for weight loss and cellulite reduction. 
The bike's design, is a vacuum capsule affecting your lower body. The workout intensity can be regulated through a sensor screen. While the customer is riding the bike simulator, the air is drawn out from the capsule creating a negative resistance. It makes the muscles work extra hard and builds strength. This results in improved blood flow, which benefits all tissues, nourishing muscles, and excreting toxins and fat cells. Both the muscular skeletal system and the problem areas profit from this fitness program.
The infrared lights included in the vacuum capsule are similar to those in infrared saunas. Their primary effect is the intensification of sweat secretion and decomposition of toxins. Cryotherapy healing increases the infared impact, ensuring lingering outcomes. The bike comes in three versions. The Grand model features collagen, aroma and ozone therapies.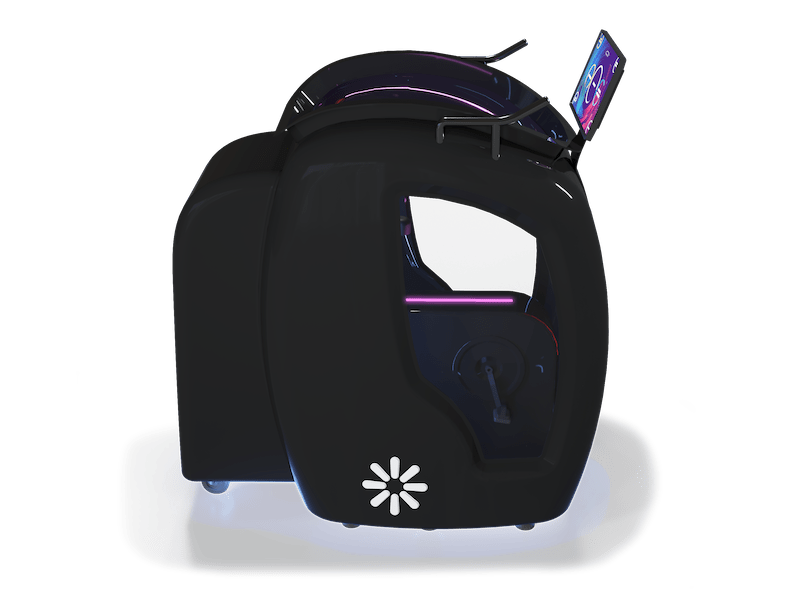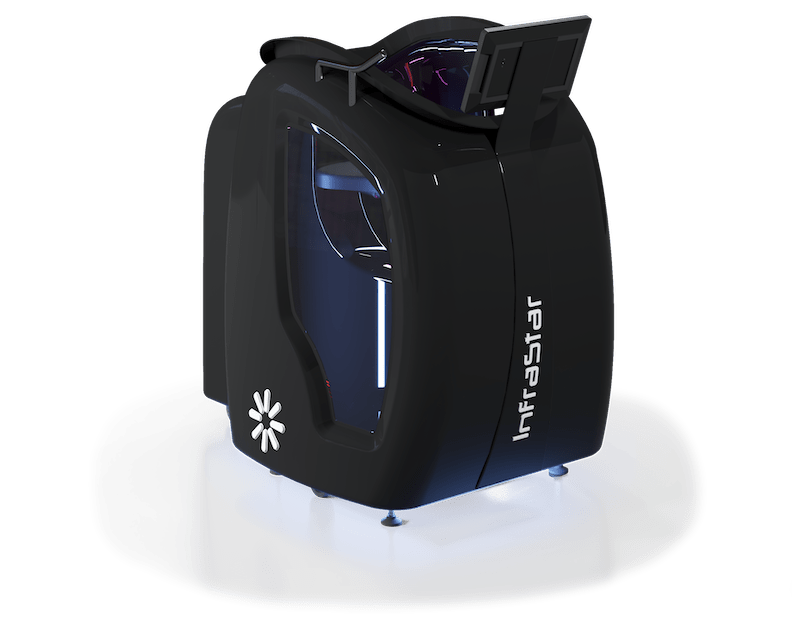 CryoNick: una potente solución térmica para un rendimiento sólido
In our vacuum InfraStar Sole Bike, we have embedded a pioneer CryoNick technology. Developed under the strict supervision of rehab experts, it maximizes the benefits of thermal effects on the body. CryoNick blends the influence of extra low and hot temperatures, to reward customers with the most beneficial outcomes. The range of temperatures lies between +45C/+110F and -20C/-4F. Thermal fluctuations positively affect muscle and tendon restoration, and facilitate the slimming action of the bike.
The alternating cryo and heat waves speed up the pace of fluid flow in the body. Cryotherapy constricts vessels which slows down circulation and eliminates swelling, pain and cramps. Heat therapy accelerates blood supply to organs and deep tissues, delivering necessary nutrients and oxygen to the affected areas. This results in their faster recovery and health restoration.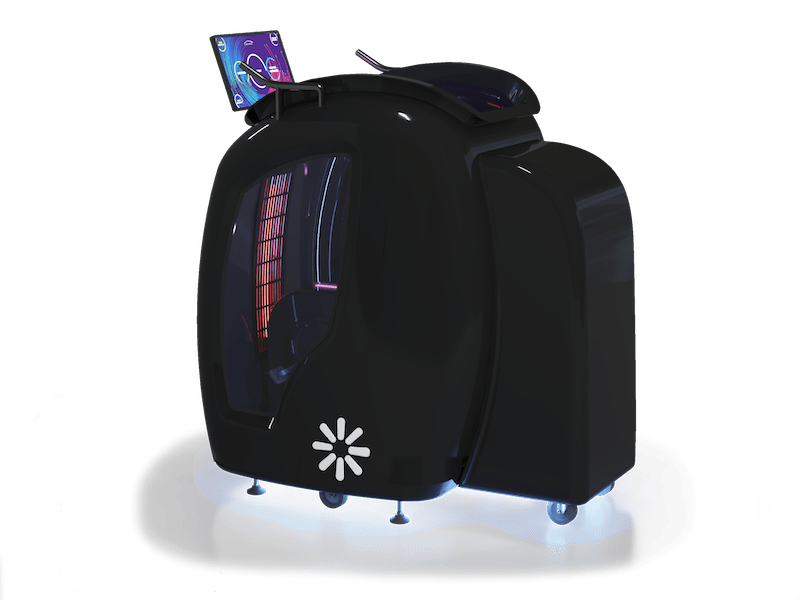 Tecnología infrarroja: beneficios de Capsule Bike para adelgazar
The InfraStar Sole ensures an efficient workout without too much strain. In fact, our appliance enables low-intensity physical exercise. It's extra value for health and body, is generated through the mix of refined technological solutions that help customers strengthen their body systems and achieve workout goals faster. 
Advantages of an Infrastar Sole Exercise Routine:
Lose extra inches and body weight
Time saving, and motivating cardio workouts

Personas que, por diversas razones, no pueden seguir una dieta para adelgazar

Helpful to those with a sedentary job or lifestyle
Enhances athletic performance
Extends your range of motion
Gentle for those post rehab, have trauma to muscles and tendons, and for tissue recovery
Contouring and cellulite reduction for troubled areas
Atletas con consecuencias adversas en el entrenamiento

Personas que necesitan sesiones de cardio cortas pero efectivas

Personas que requieren recuperación de tejido postoperatorio o postraumático

Atletas con consecuencias adversas en el entrenamiento

Skin tightening features
As InfraStar Sole's intensity is adjusted, each customer can get the maximum of this revolutionary device. Simple customization to address the individual client's needs, makes it unbeatable in the world of weight-loss and rehab simulators.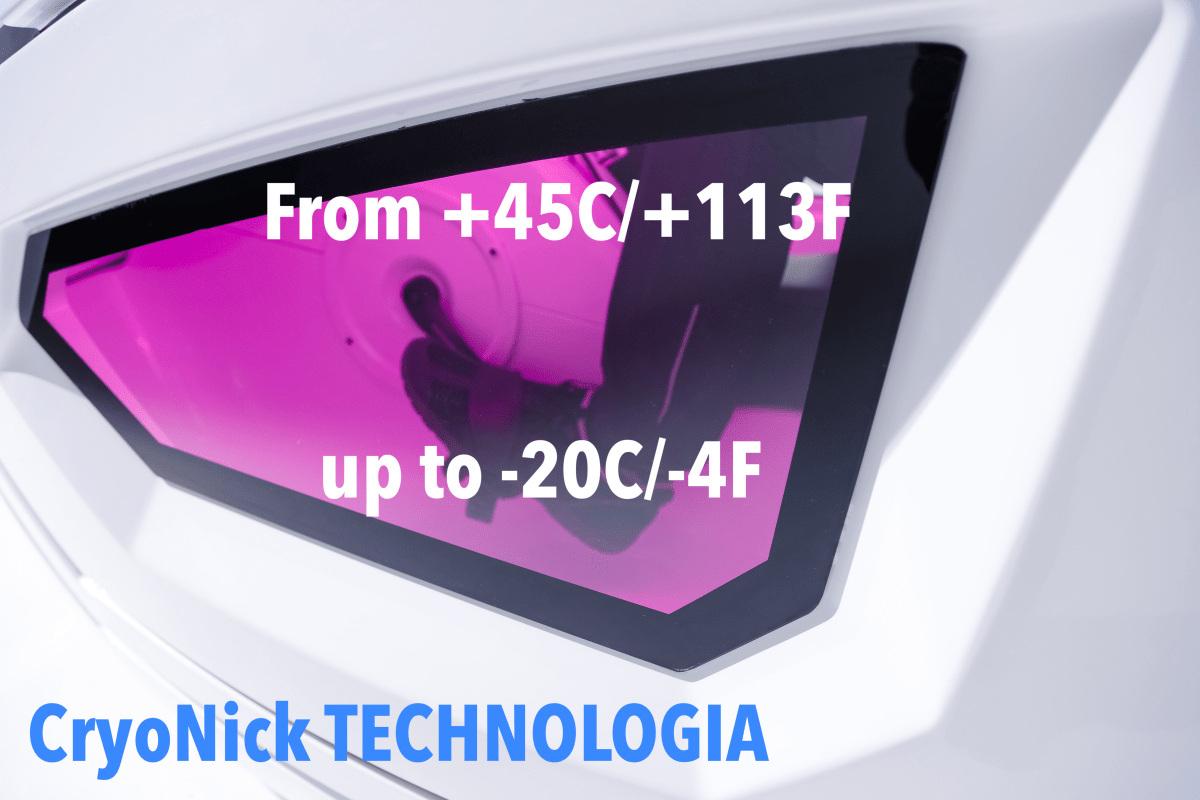 The Infrastar Sole: A Versatile Device to Cover Clients' Needs
The InfraStar has been designed with deliberate care to bring its users maximum benefits, using a comprehensive approach to their wellness needs. Our researchers and designers did their best to put it at the service of your health and beauty.
Estar sano
The InfraStar Sole is a future-oriented appliance for your workout routine, projecting its influence on both external and internal factors contributing to your healthy lifestyle. The combination of infrared treatment with vacuum massage affects your immune system, and all your body processes to make you healthier than ever. Therefore, the effects of collagen, ozone and aroma therapies exponentially grow.
estar en forma
A healthy lifestyle is dependent on a sound physical activity. All diets and regimens should be complimented with an exercise routine. The Infrastar Sole burns calories, and provides extra stimulus through the infared light and vacuum resistance effects. You will lose up to 1000 local in a
30- min session in a short period of time, while accelerated sweat production helps maintain detoxification and eliminate swelling, as well as fat deposits.
Sentirse bien
We have managed to unite the process and the intended result in a convenient, pleasurable and rewarding experience with the Infrastar Sole. No wonder our customers enjoy these vacuum bike sessions, as the exercise promotes endorphin production. Finally, the relaxation and restoration effect lingers after the session as well.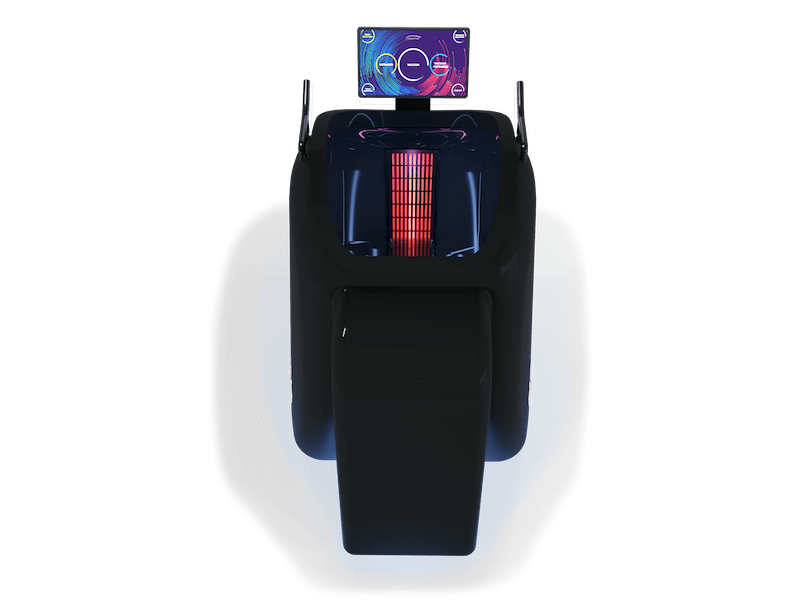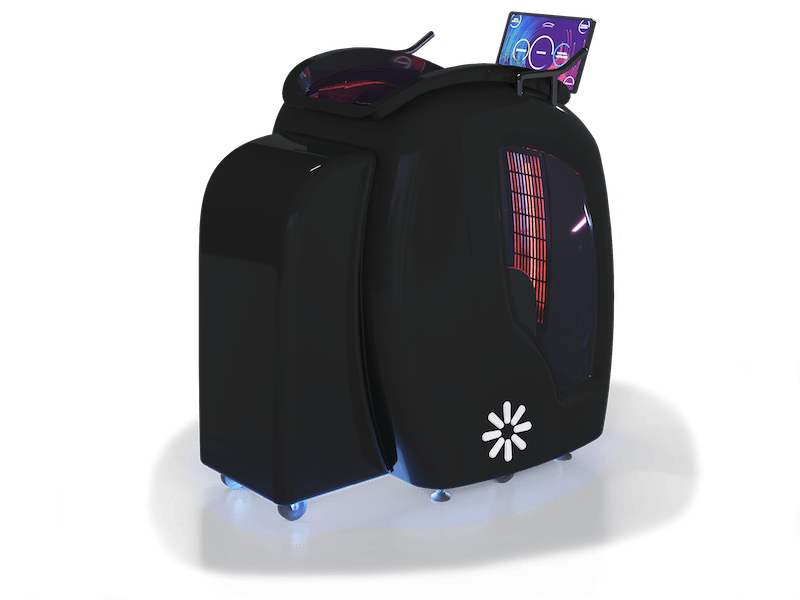 Conveniencia del usuario
We at Vacuactivus work hard to make a product that is not only innovative and efficient, but also highly user-friendly. The Infrastar Sole is no exception: it features ease and usability to meet the requirements of both individual and commercial use.
Menú actualizado
The Infrastar Sole menu includes customized programs for vacuum, infrared, and combined reps. The CryoNick option is also adjustable. The menu is informative and intuitive. Embedded virtual reality programs and TV channels, make training sessions even more enjoyable. For better control, we've included a WiFi connection, Netflix, and Spotify. We have also added a PC/phone app to measure the customer's traffic session schedule and machine usage, to record their exercise outcome.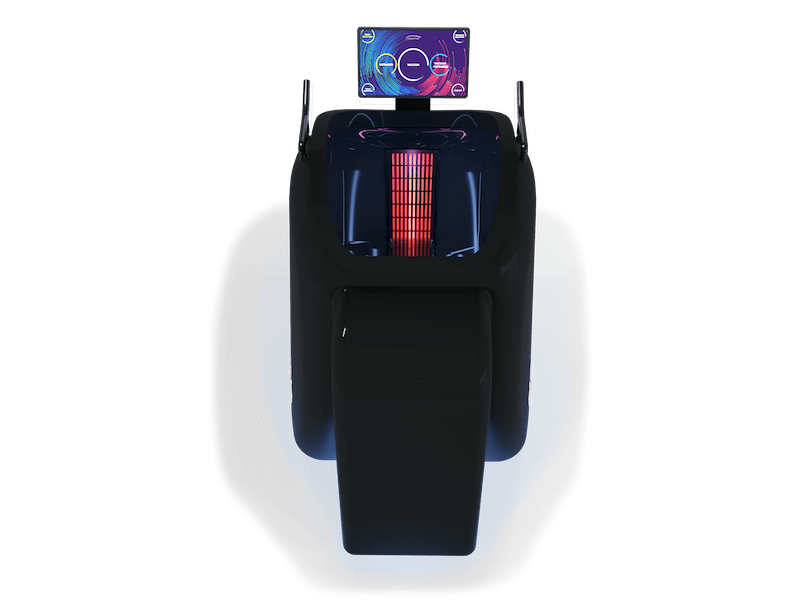 Variedad de versiones
The Infrastar Sole comes in several versions:
Simple. Configuración básica con funcionalidad de infrarrojos y vacío.

sencillo +. Las funciones ampliadas incluyen lámparas de colágeno y aromaterapia.

Grandioso. Versión completa con pantalla VR y conexión a TV.

CrioNick. Se ha añadido la función de crioterapia para obtener el máximo efecto.
Variedad de estilos
The vacuum bike is fitted with a neoprene skirt in in a variety of sizes, with high quality speakers, a luxury leather seat and pillow. The color palette of InfraStar Sole includes:
Blanco/gris;

Blanco negro;

Blanco rojo;

Blanco azul;

Blanco/naranja;

Blanco verde;

Negro Negro;

negro/gris;

Azul negro;

Negro/rojo.
If you have further questions, don't hesitate to contact us. For further questions, feel free to contact us to advise you on the perfect Infrastar Sole model for your needs.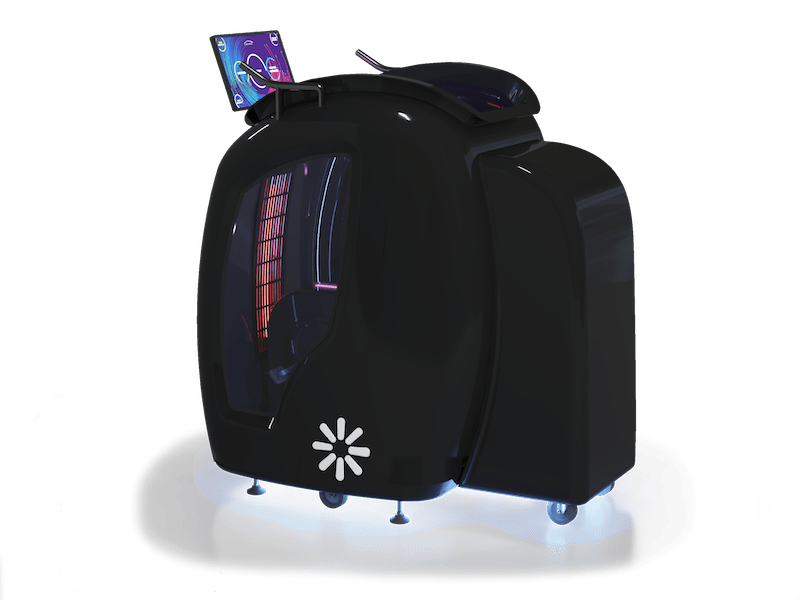 Functionality, Menu and Infrastar Sole bike models
The Super Simple model has a 10.1″ touch screen. It has a combination of a negative vacuum resistance program and an infared heating program. In addition, the Simple model has WiFi and comes with two vacuum skirts, used for the zero gravity vacuum exercises.
The Simple+ model, also has a 10.1″ touch screen, and a combination of a negative vacuum resistance program and an infared heating program. Additionally, it comes with WIFI, three skirts for zero gravity vacuum exercises, and a collagen lamp for skin care benefits.
The Grand model has a large 23″ touch screen menu, the combination of the negative vacuum resistance program and the infared heating program. It has the ability to upgrade to the Cryonick model, WiFi, Aromatherapy, a collagen lamp for skincare benefits, and 5 skirts for the zero gravity vacuum exercises. The Grand model has an Apple/Android application and remote control feature to adjust the functions during exercises and record data in the client's profile. Netflix, YouTube, and Radio Garden World-wide radio stations, YouTube, Facebook and Spotify are also included in this model.
The Cryonick model has a large 23″ touch screen menu. It also comes with combination of negative vacuum resistance program and an infared heating program, Aromatherapy, WIFI, a collagen lamp for skin care benefits during exercises, 5 skirts used for zero gravity vacuum exercises, and an Iphone/Android application remote control. Netflix, YouTube, Radio Garden World-wide radio stations, and Spotify. The temperature of the cryotherapy exercises blowing is -20C/-4F. Hot and cold therapies are all in one fitness bike to improve weight loss benefits, and rehabilitation effects.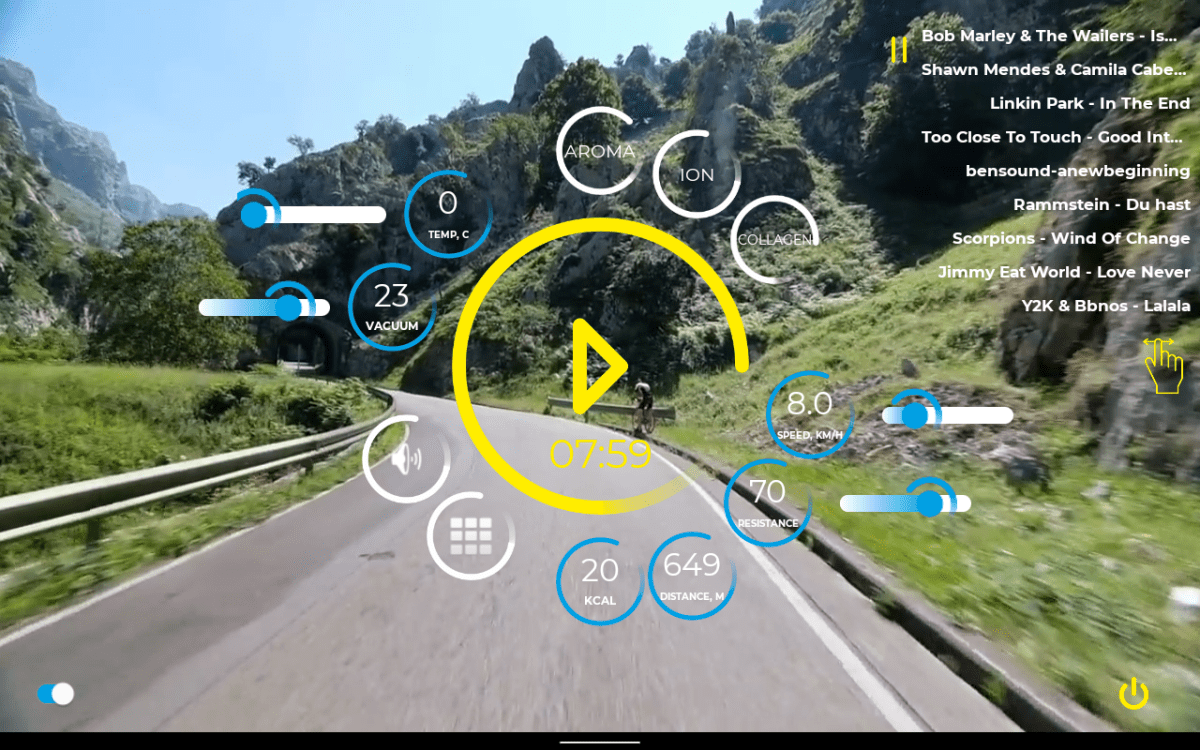 Especificación técnica
Fuente de alimentación:
230V/50Hz o 120V/60Hz
El consumo de energía:
2kW
Temperatura de soplado Crionick:
-20-30C/-4-22F
Temperatura de calentamiento por infrarrojos:
+20+50C/+68+122F
Resistencia electromagnética
Bomba de resistencia negativa a la vacuna:
0-30mBar
Pantalla táctil:
10'1" realidad virtual
Opciones:
aromaterapia, lámpara de colágeno, parlantes
Netflix, RadioGarden, Facebook, WiFi, sistema de actualización automática
Aplicación de control de iPhone/Android con código QR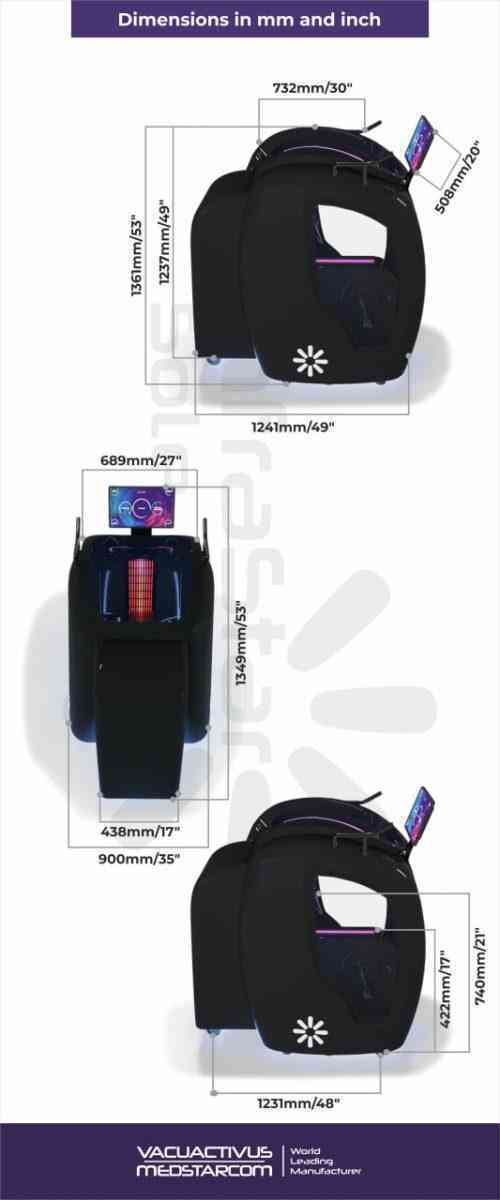 Productos relacionados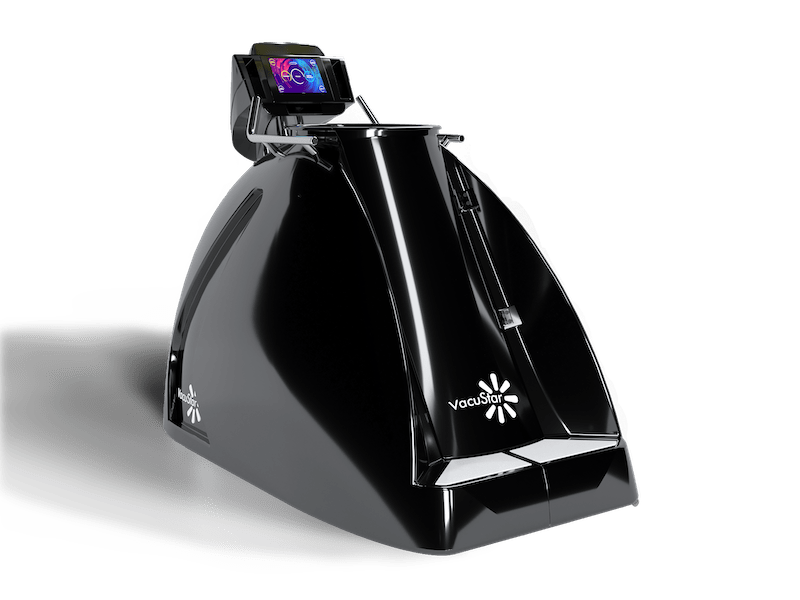 Cinta de correr VacuStar
Preguntar precio especial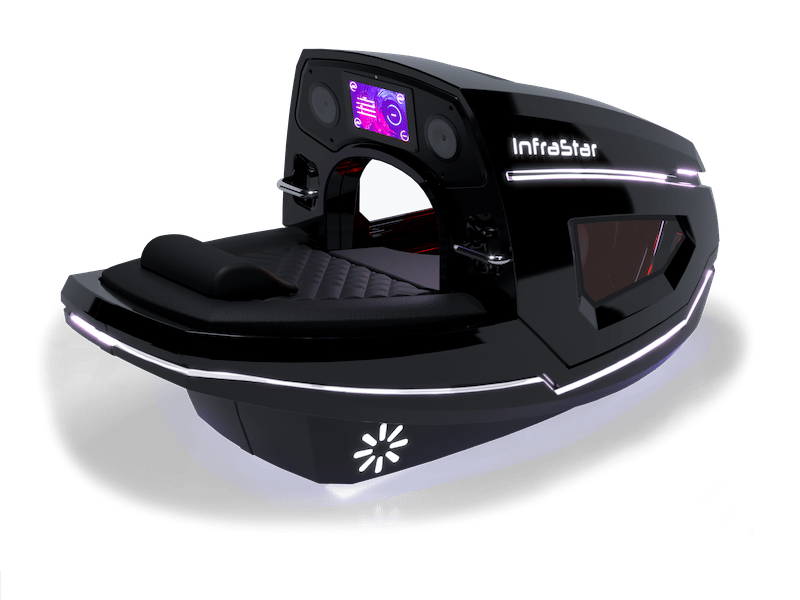 Bicicleta InfraStar
Preguntar precio especial