RollStar rullo per massaggio linfatico
I massaggiatori linfatici RollStar sono una manna dal cielo per chi sogna di perdere peso in eccesso senza fatica – senza andare in palestra, restrizioni dietetiche. Questi meravigliosi simulatori, come assicurano i produttori, aiutano a ottenere risultati notevoli in soli 7 giorni. Allo stesso tempo, devi dedicare solo un'ora al giorno alle lezioni. Questi dispositivi ti consentono davvero di ottenere una bella figura senza estenuanti allenamenti
RollStar rullo di massaggio linfatico
Pulisci il corpo e disintossica i linfociti utilizzando il massaggiatore linfatico RollStar
Il sistema linfatico del corpo fa parte del sistema immunitario. Lypha trasporta le sostanze nutritive e l'ossigeno alle cellule, raccogliendo le tossine lungo il percorso e poi rilasciano le tossine attraverso i nodi linfatici. La cellulite appare a causa della cattiva circolazione linfatica e sanguigna in specifiche aree del corpo. Il rullo RollShape stimola il sistema linfatico, distrugge meccanicamente la combinazione tra le cellule adipose nel tessuto adiposo, consegna sangue e ossigeno a tali aree, trasferisce le cellule adipose all'energia e aumenta il deflusso linfatico per la rimozione delle tossine dal corpo.
Lymphatic cellulite reduction massage
RollStar is the lymphatic massage rollshaper.  The roll massage performed on our rollshaper  stimulates the production of lymphatic fluids and the expansion of lymph vessels. Lymphatic massage by RollStar lymphatic drainage roller mechanically destroys combination between fat cells. Infrared heating increase blood and lymphatic circulation in targeted body areas helps to bring blood with oxygen there. Blood with oxygen  easy transfers to energy these fat cells. Therefore lymphatic massage rollers are most effective devices for cellulite reduction. As well as rollers making muscle massage which used in sport rehabilitation and recovery for massage therapists. Lymphatic drainage massage is the most effective method of get rid in problematic body areas and get fast cellulite reduction benefits.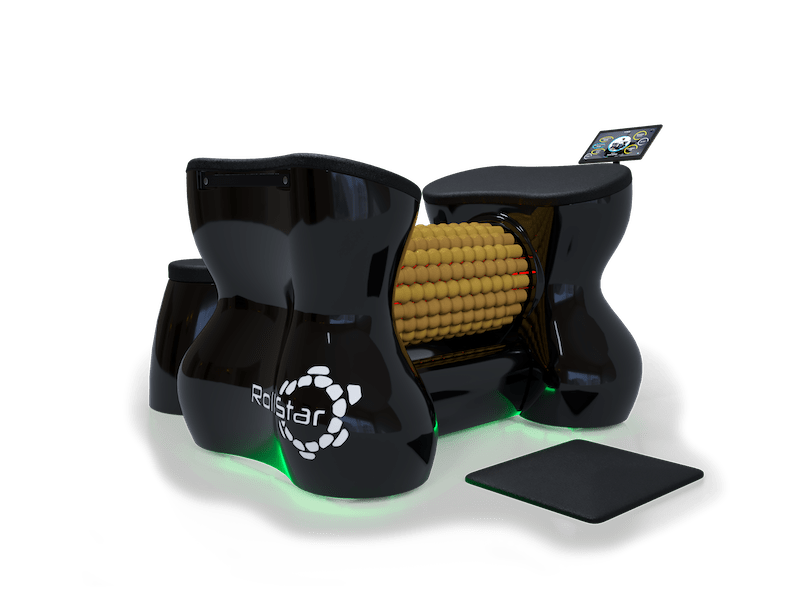 Lymphatic drainage are extensive, mainly in the transport via lymphatic system and removal of stagnant fluids located in body. Lymphatic drainage exercises on rollshaper stimulates blood and lymphatic circulation, fat tissue reduction and skin tightening. Increases lymphatic flow, promoting faster removal of excess interstitial fluid and toxins from body. Reduces swelling and water retention. Helps with cellulite reduction by reducing the amount of fluid that presses up against the cross-hatched fibers beneath your skin. Improve body and muscle relaxation and well-being feeling. Energizes the body and makes muscle recovery.
Benefici del massaggio linfatico roll
Meno 10 pollici in vita in un solo mese!
Secondo gli sviluppatori, il massaggiatore linfatico RollStar può essere utilizzato per sbarazzarsi di qualsiasi area del corpo problematica come fianchi, addome, glutei, spalle, ecc. RollStar non ha effetti collaterali.
Benefici del massaggio linfatico:
Perdi quei chili in più
Migliora la circolazione sanguigna e linfatica nelle aree del corpo problematiche
Riduci il volume delle parti del corpo
Elimina i depositi di grasso localizzati.
Migliora la condizione della pelle
Rafforzamento della pelle e miglioramento dell'elasticità della pelle.
Riduzione della cellulite
Migliora il tono muscolare.
Disintossicazione
Evita la liposuzione, integratori alimentari dubbi per dimagrire e diete rigorose.
L'effetto si ottiene attraverso un potente massaggio linfodrenante e simultaneo riscaldamento della pelle con raggi infrarossi. Infatti, considerando il lavoro dei simulatori, puoi assicurarti che diano ottimi risultati anche ai più pigri. Il massaggio linfodrenante è molte volte più efficace del solito. In una sola sessione sul massaggiatore RollStar roll puoi bruciare fino a 450 calorie o perdere almeno 5-10 kg (10-20LB) al mese senza esercizi di fitness o carico cardio.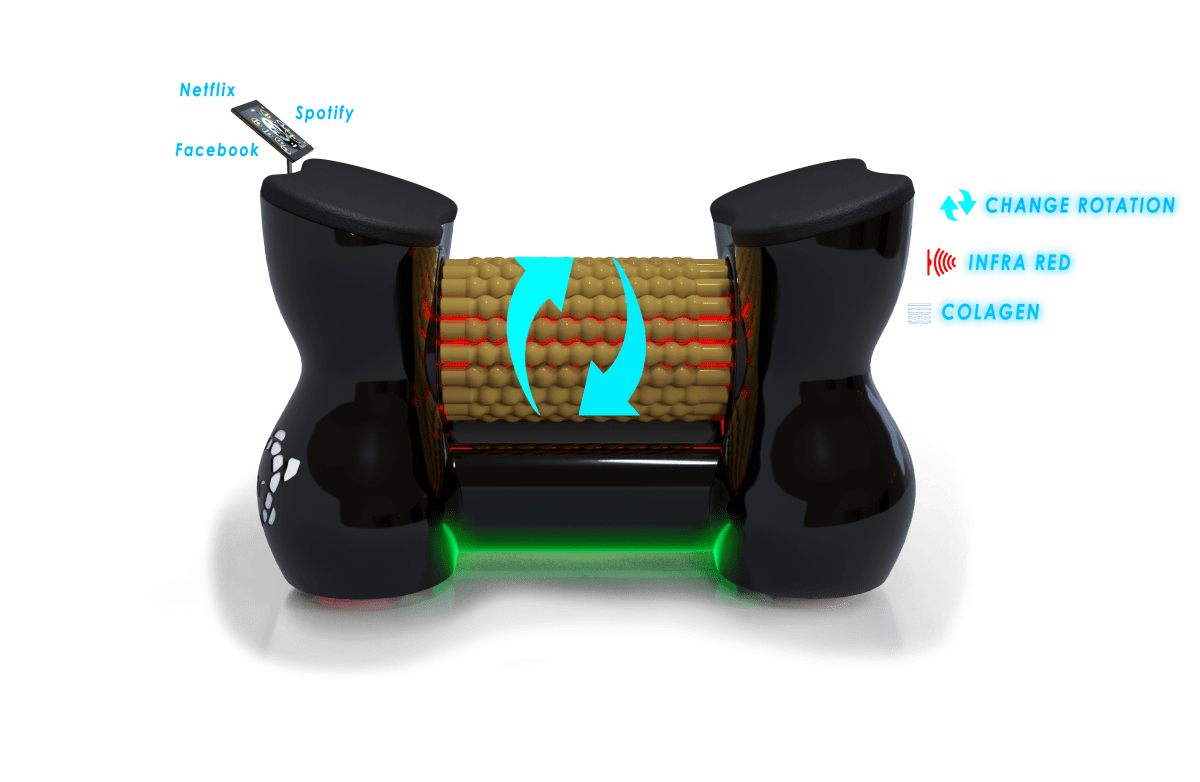 Effects of lymphatic massager roll shaper
Minus 10 inches in the waist in just a month! According to the developers RollStar lymphatic roll massager can be used to get rid in any problematic body area as hips, abdomen, buttocks, shoulders, etc. RollStar have no side effects. The effect is achieved through a powerful lymphatic drainage massage and simultaneous heating of the skin with infrared rays. Indeed, when considering the work of simulators, you can make sure that they give excellent results even to the laziest. Lymphatic drainage massage is many times more effective than usual. In just one session on RollStar roll massager you can burn up to 450 calories or lose at least 5-10 kg (10-20LB) per month without any hard fitness exercises or cardio loading.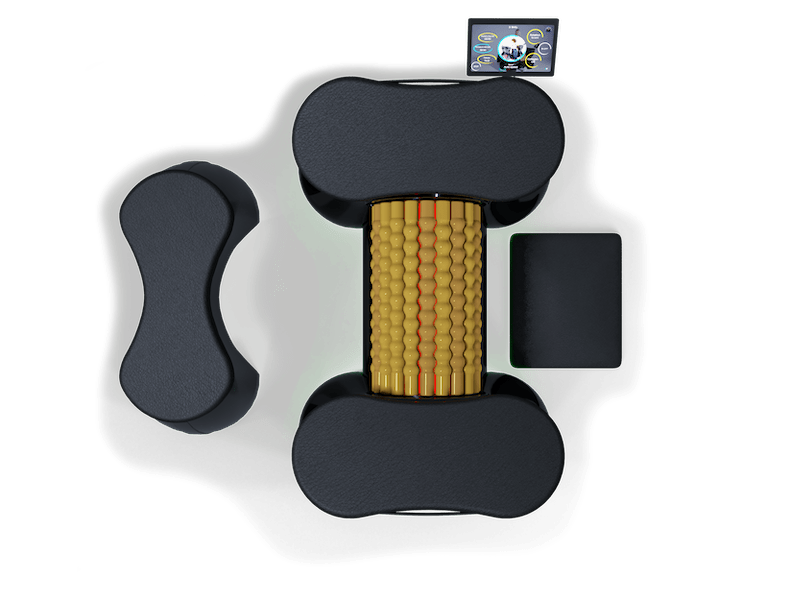 New updated menu
Virtual reality display
Wi-Fi
Netflix
Spotify
Video guide
FaceBook
VACUACTIVUS application control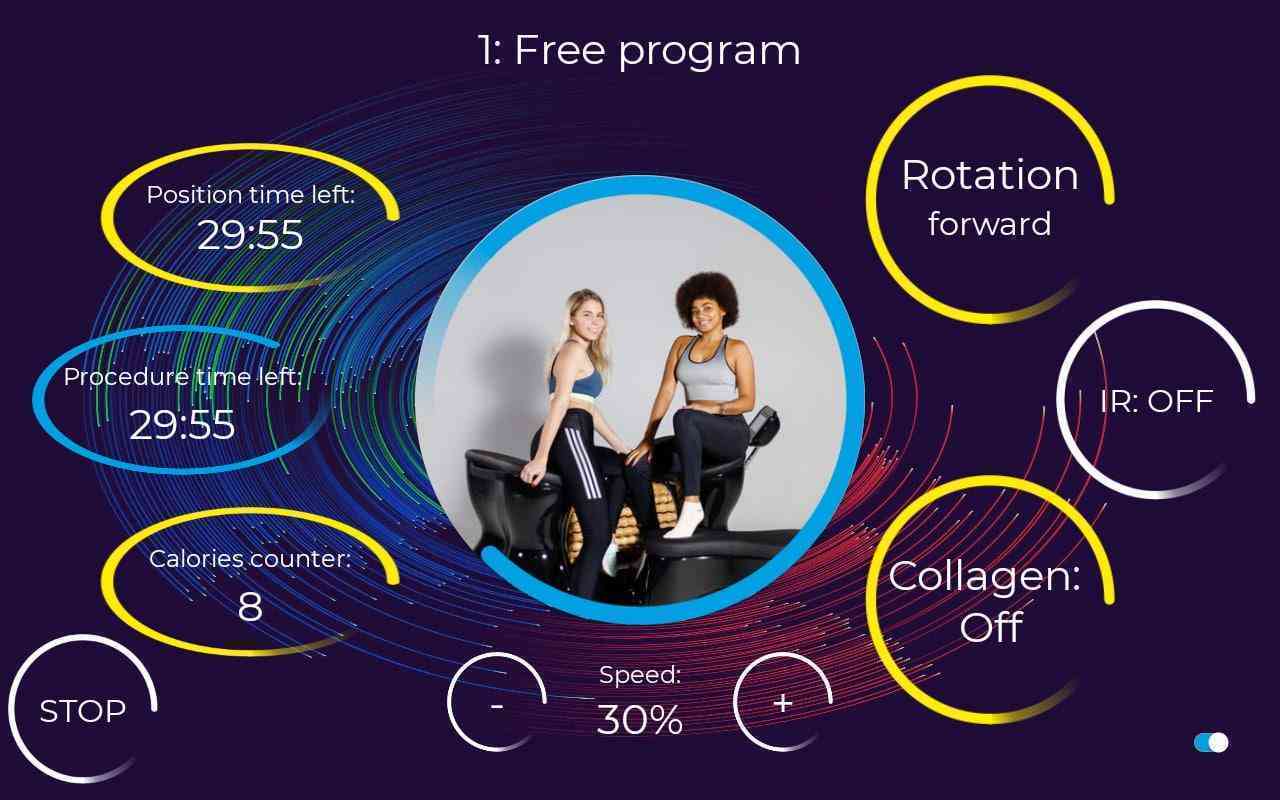 Newest menu
New generation of RollStar lymphatic massage roller got menu features as: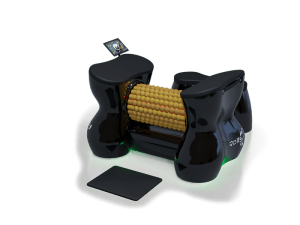 10.1″ movable wi-fi display
Bluetooth connection via machine and display. You could operate rollshaper remotely
virtual reality menu with exercise instructions
TV channels, Netflix, Facebook and Instagram is available to review during lymphatic massager treatments on RollStar
3 automatic and 1 manual program
speed rolling adjustment
calories counter
Infrared lights turn on/off
collagen and color therapy lamps turn on/off
ozone therapy (optionally)
exercise summary
video installation how exercise on lymphatic drainage rollshaper
change rotation