What is Cedar barrel sauna?
This is new generation of portable cedar sauna  for home & commercial use.
This is hot steam sauna with organic steam for one person used for relaxation and recovery. Cedar barrel sauna is portable and it does not required big space and plumbing pipes. You will have sauna benefits in your home at any time! Cedar steam sauna fully made from cedar wood that grows on the high elevations of the clean ecological Mountains in British Columbia and Siberia. This mini cedar sauna for body rejuvenation & relax with an rejuvenation steam. Procedure in barrel sauna takes around a 5-20 minutes. Temperature treatments used as immune booster and natural health protector.  
Cedar sauna kit
World herbalists have managed to create a tools which combines the life-giving power of the baths and the healing power of cedar. A cedar barrel, a mini-sauna or as called portable cedar barrel sauna is a unique method of body rejuvenation, which has no analogues all over the world! This procedure removes fatigue, energizes and rejuvenates not only our body but the soul.
Our company has been on the world market for many years. We sold hundreds of cedar barrel saunas that have been installed throughout the world. Everyone extremely loved cedar barrel sauna due healing and relaxation benefits. From year to year our products are being refined and improved, we are currently creating most comfortable cedar barrel sauna, that have no equal in quality! We offer our product as Cedar sauna barrels merging our skills and love for what we do. This is a best sauna equipment for any holistic wellness and healing facilities, cryotherapy studios, spa or home.
Treatments in cedar barrel sauna
A 10-15 minute steam sauna session warms the body, increases circulation and relaxes muscles. that will help you lose weight, remove cellulite, speed up your metabolism system, reduce stress, relief for cold related infections, renewal of sexual function and detox from your body the bad toxins found in everyday life.
Depend of what kind of treatment you choose, you'll use a specially selected mix of herbs or aroma oils. We offer mix of traditional herbal remedies that have been found to be effective for the treatment. So, all our mix of herbal or aroma oils has different pharmacological effects, you have picked which one treatment would you like to have. The fragrance of cedar gently rises with the steam and you can breathe of pine forest at home. The combination of steam saunas and fragrance can greatly increase your level of relaxation.
At the same time, our cedar barrel sauna looks very portable and it could be placed in any room. When we created our Cedar Barrel sauna, we were guided by ancient world tradition, which traces its origins back to the oldest times. We were able to maintain the style of Royal steam saunas from the 17th century.  It was as time when people did not use pills and antibiotics, but they were very strong and healthy. At these times, the people knew many secrets  for well-being, which were forgotten until now. They treated their ailments and diseases using only traditional medicine and knowledge of the old sages who knew everything about the healing properties of cedar wood and the properties of herbs. This priceless knowledge handed down from generation to generation, has survived an incorporated in manufacturing of our cedar barrel sauna.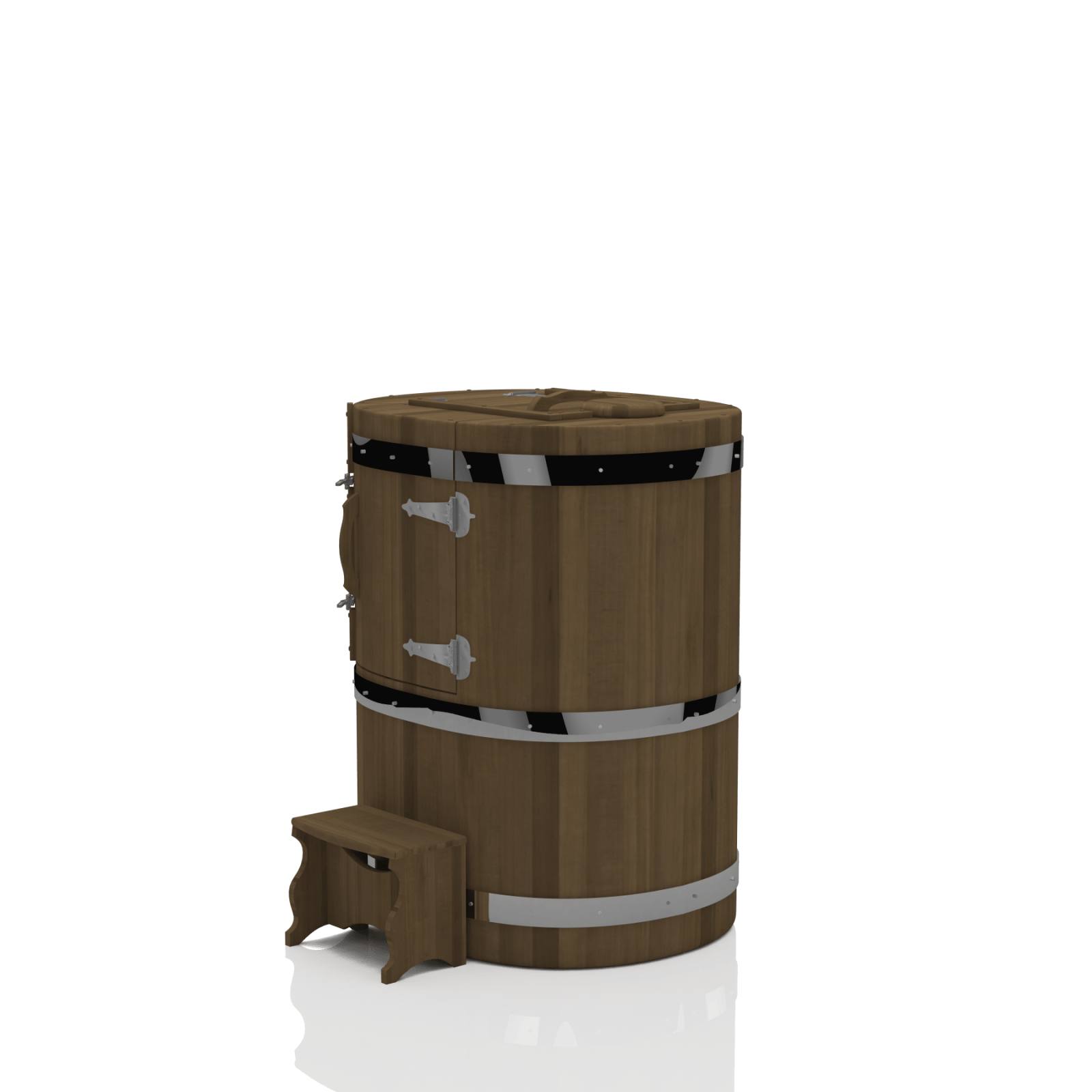 How we manufacturing our cedar barrel sauna
What is the difference between our Cedar Barrel sauna and regular saunas or steam rooms? 
Cedar barrel sauna is a innovative, unique, handmade, totally organic spa made only from 100% white Cedar wood without the use any nails, screws, glue or other synthetic materials. Each cedar steam sauna is made using old world cooperage tradition where white cedar planks, perfectly hewn, are connected together like a puzzle and then fitted on the outside with a decorative metal hoop to pull the sauna together. We used Altai white Cedar wood is high quality, light weight, durable, fine textured and considered to be one of the best building materials available. The wood is rot resistant due to the high concentration of antiseptic substances. Saunas made from this wood will last for decades and retain the disinfectant properties and its special, delicate aroma. Another big difference between our cedar barrel sauna and regular steam saunas is sauna body style where a human head is outside the sauna and head is not involved into the hot steam. The head is kept cool, so there is no strain on blood vessels in the brain or on the respiratory system.
A such body style of cedar barrel sauna has incredible health benefit for safety usage of sauna treatments.  Due the high temperatures and humidity can be tolerated by the body in the sauna while the head breaths fresh air and is kept cool. Any regular steam sauna could not offer such benefit. Our cedar barrel sauna is attractive, so it can be part of the decor of any modern room or space, adding a special rustic flavor.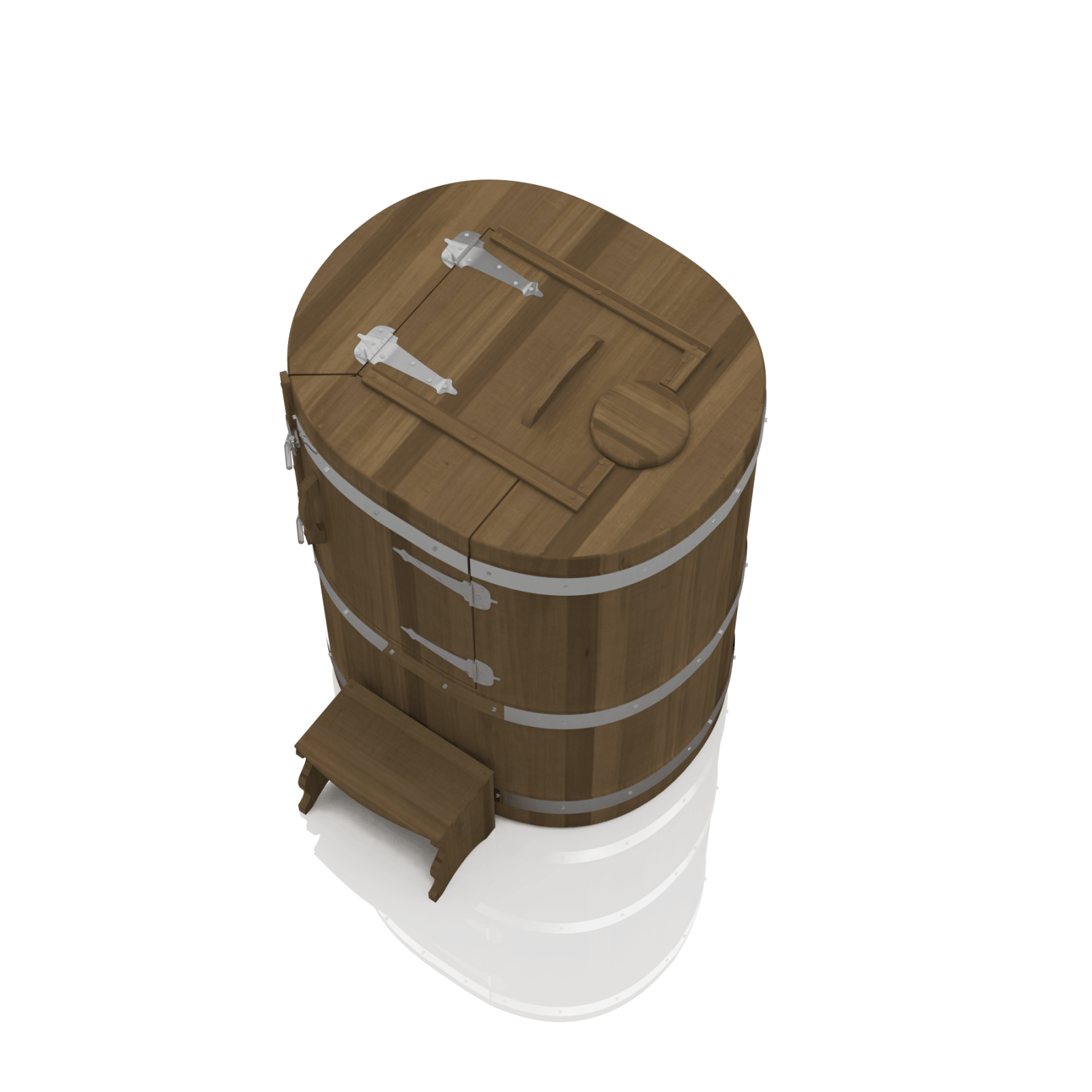 Instructions for healing procedures in cedar sauna
The healing procedure is a more effective if you are not eat at least 2-3 hours before treatment.
Immediately before the procedure to take a warm shower and rub down your body with a towel dipped in salted water. If your body is a little flushed, you are able to maximize the benefits of your cedar barrel sauna experience. 

Do not take procedure in the cedar steam over than 20 minutes. During a 15 minute procedure in sauna you should lose up to 1-4 lbs. of body weight due sweating. However, the sweat secretions takes out from your body around a 5% and 20% of fat as well as water. This means that you may lose up to 2 liters of fluid, and 1/3 lbs. of fat. Taking our cedar sauna barrel procedures three times a week, can get weight loss effect up to 5-8 lbs. in a month without keep any diet. After the healing procedure in cedar barrel sauna, we recommend to drink a few cups of hot herbal tea which help restore your fluid balance. During the steam sauna procedure you are experienced the detoxification of your body, cellulite and stress reduction, and a relaxation of your mind and body muscles. As you take a healing procedure, your body is actually working hard to eliminate toxins and burn fat. Weight loss becomes possible because the body fat becomes water soluble at 110 degrees and the body can sweat out fats, toxins and heavy metals at that temperature. You don't need to use excess temperatures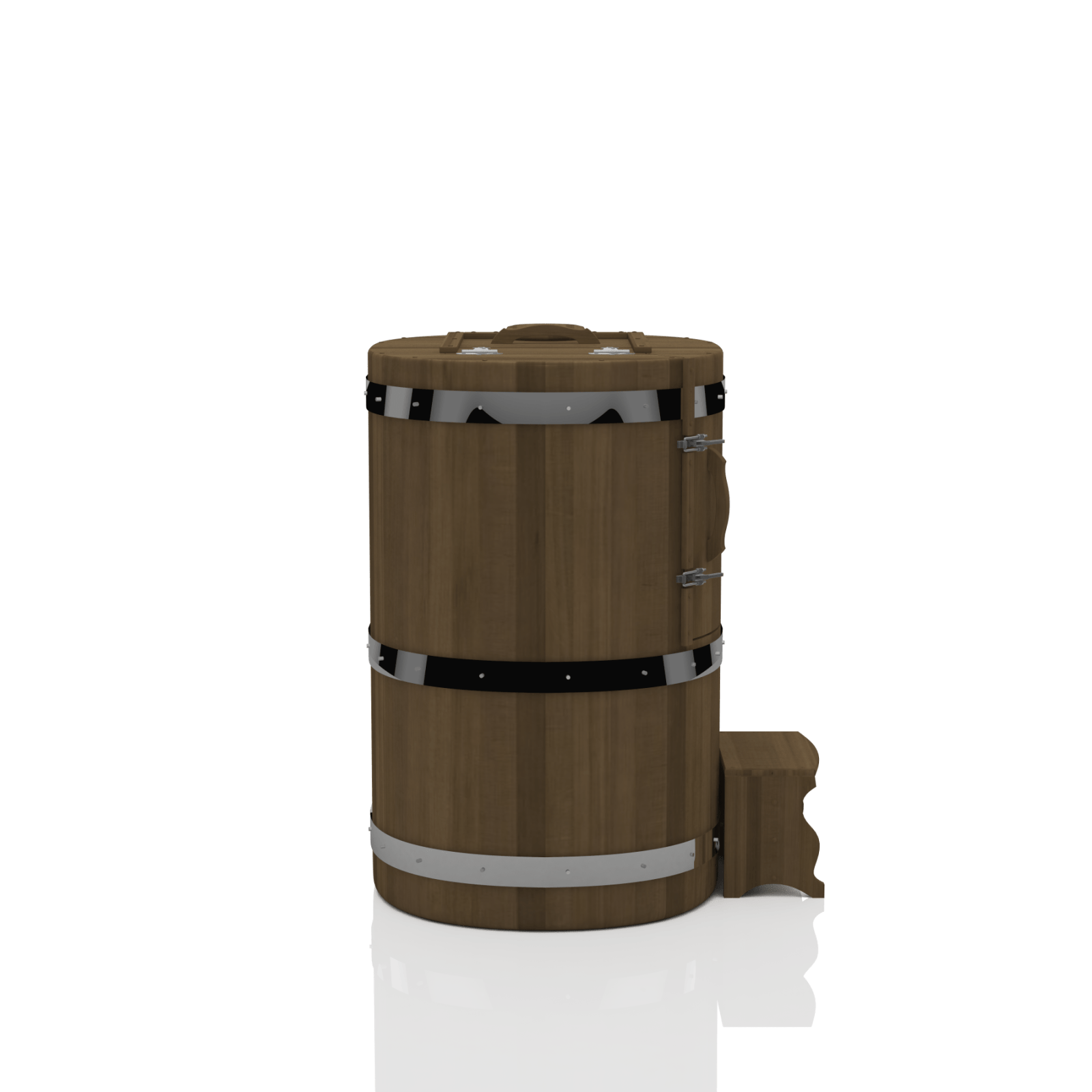 Sauna weight loss benefits:
Many users believe that a regular session in cedar barrel sauna at least 3 to 4 times per week would be useful to help control body weight. Cedar barrel sauna procedure increases the formation of the hormone somatotropin. This hormone promotes growth in the young, and plays a crucial role in the metabolism of mature people. Cedar barrel sauna procedures should increase concentration of somatotropin which has a positive effect on weight loss and healing.
Let's summarize regarding  the Cedar Barrel sauna. It has recently become a very popular treatment for cellulite reduction using a high temperature; such procedures are carried out in many spas and weight loss centers. The thermal procedure effect stimulates blood circulation in the subcutaneous fat layer, which contributes to the breakdown of fat cells. How does Cedar Barrel Sauna treatments should help with cellulite reduction? 

Enjoy great healthy lifestyle in cedar barrel sauna as it contributes the removal of excess fluid and toxins from the body which better and effective way for reduce fat tissue due to high temperature and high humidity. At this time there is a deep cleansing in the pores which open and skin starts to "breathe". The skin starts to breathe medical herbal steam which we recommend to use for cellulite reduction treatment in our cedar barrel sauna. We offer special mixtures of herbs and flowers which will help to increase weight loss effects. 

The main herbs of our mix include:nettle, plantain, sage, lavender, aloe, rosemary, horsetail, mint, marjoram, oregano leaves.
Dimensions and power consumption
Our cedar barrel sauna has light weight (approx. 120-160 lbs/60-80 kg) and can be installed or moved anywhere in any room. Other benefit, it does not require plumbing and takes up less than 2 square yards of space. In addition, the cedar sauna design is completely sealed and has no damaging effect on surrounding objects. Electrical consumption of the steam generator has low energy consumption being take equivalent energy to the regular coffee maker.
Oval edition is perfectly fit anywhere in your home or business.
Related products
Cedar Spa Barrel Square Edition
Ask special price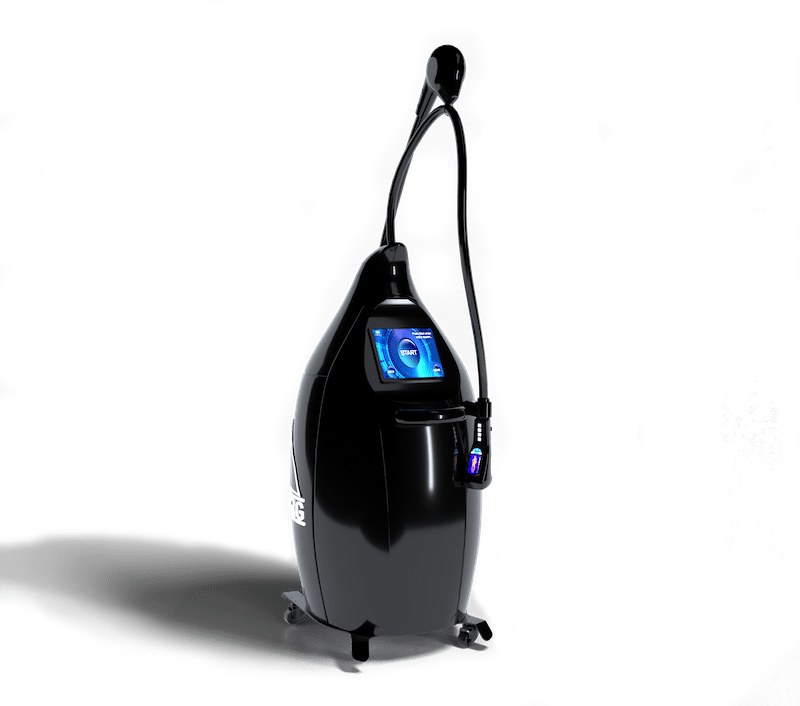 Iceberg electric CRYO
Ask special price