Rola de masaj limfatic RollStar
Masajul RollStar lympahic roll este o mână de Dumnezeu pentru cei care visează să piardă excesul de greutate fără efort - fără a merge la sală, restricții alimentare. Aceste simulatoare minunate, așa cum asigură producătorii, ajută la obținerea unor rezultate vizibile în doar 7 zile. În același timp, trebuie să dedicați doar o oră pe zi cursurilor. Aceste dispozitive vă permit într-adevăr să obțineți o siluetă frumoasă fără antrenamente obositoare
RollStar lymphatic massage rollshaper
Curățați corpul și faceți detoxifiere limfatică cu ajutorul masajului RollStar limfatic pentru role
Sistemul limfatic al corpului face parte din sistemul imunitar. Lypha transportă substanțele nutritive și oxigenul către celule, colectând toxine pe drum și apoi elimină toxinele prin ganglionii limfatici. Celulita apare datorită circulației limfatice și sanguine proaste în anumite zone ale corpului. Rola RollShape stimulează sistemul limfatic, distruge mecanic combinația dintre celulele adipoase din țesutul adipos, livrează sânge și oxigen în astfel de zone, transferă celulele adipoase în energie, precum și crește fluxul limfatic pentru eliminarea toxinelor din corp.
Masaj de reducere a celulitei limfatice
RollStar is the lymphatic massage rollshaper.  The roll massage performed on our rollshaper  stimulates the production of lymphatic fluids and the expansion of lymph vessels. Lymphatic massage by RollStar lymphatic drainage roller mechanically destroys combination between fat cells. Infrared heating increase blood and lymphatic circulation in targeted body areas helps to bring blood with oxygen there. Blood with oxygen  easy transfers to energy these fat cells. Therefore lymphatic massage rollers are most effective devices for cellulite reduction. As well as rollers making muscle massage which used in sport rehabilitation and recovery for massage therapists. Lymphatic drainage massage is the most effective method of get rid in problematic body areas and get fast cellulite reduction benefits.
Lymphatic drainage are extensive, mainly in the transport via lymphatic system and removal of stagnant fluids located in body. Lymphatic drainage exercises on rollshaper stimulates blood and lymphatic circulation, fat tissue reduction and skin tightening. Increases lymphatic flow, promoting faster removal of excess interstitial fluid and toxins from body. Reduces swelling and water retention. Helps with cellulite reduction by reducing the amount of fluid that presses up against the cross-hatched fibers beneath your skin. Improve body and muscle relaxation and well-being feeling. Energizes the body and makes muscle recovery.
Beneficiile masajului limfatic la rostogolire
Beneficiile masajului limfatic:
Pierde kilogramele în plus

Îmbunătățiți circulația sângelui și limfatică în zonele problematice ale corpului

Reduceți volumul părților corpului

Eliminați depunerile de grăsime localizate.

Îmbunătățiți starea pielii

Strângerea pielii și îmbunătățirea elasticității pielii.

Reducerea celulitei

Îmbunătățiți tonusul muscular.

Detoxifiere 

Evitați liposucția, suplimentele alimentare dubioase pentru slăbit și dietele stricte.
Effects of lymphatic massager roll shaper
Minus 10 inci în talie în doar o lună! According to the developers RollStar lymphatic roll massager can be used to get rid in any problematic body area as hips, abdomen, buttocks, shoulders, etc. RollStar have no side effects. The effect is achieved through a powerful lymphatic drainage massage and simultaneous heating of the skin with infrared rays. Indeed, when considering the work of simulators, you can make sure that they give excellent results even to the laziest. Lymphatic drainage massage is many times more effective than usual. In just one session on RollStar roll massager you can burn up to 450 calories or lose at least 5-10 kg (10-20LB) per month without any hard fitness exercises or cardio loading.
New updated menu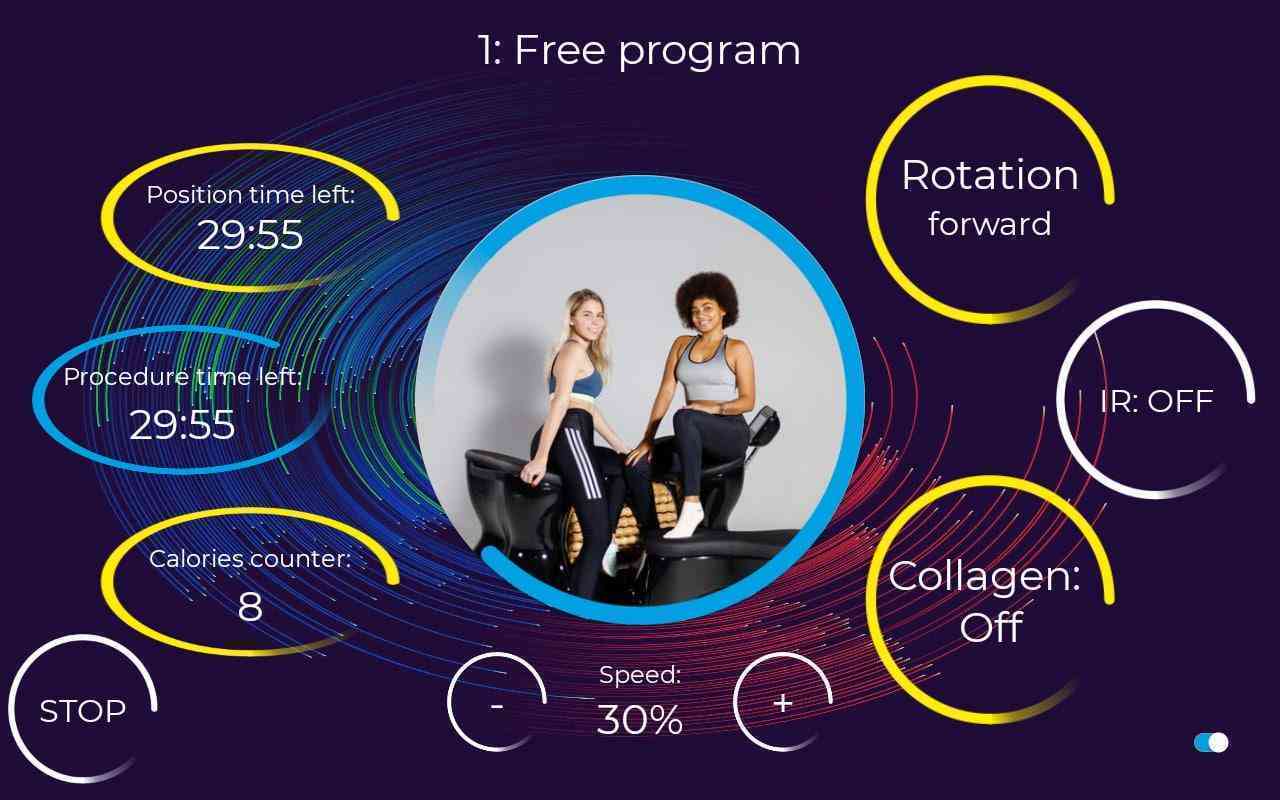 Newest menu
New generation of RollStar lymphatic massage roller got menu features as:
10.1″ movable wi-fi display
Bluetooth connection via machine and display. You could operate rollshaper remotely
virtual reality menu with exercise instructions
TV channels, Netflix, Facebook and Instagram is available to review during lymphatic massager treatments on RollStar
3 automatic and 1 manual program
speed rolling adjustment
calories counter
Infrared lights turn on/off
collagen and color therapy lamps turn on/off
ozone therapy (optionally)
exercise summary
video installation how exercise on lymphatic drainage rollshaper
change rotation