CryoJet Elektriksel Lokalize Kriyoterapi Ünites
Rehabilitasyon, iyileşme ve ince bakım için soğuk hava kullanan elektrik tabanlı lokalize kriyoterapi makinesi. Cryo facial için yeni model elektrik kriyoterapi ünitesi
Lokalize kriyoterapi tedavileri için taşınabilir ve elektrik ünitesi
Soğuk Hava Terapisi Ekipmanları
Cryo Jets, iltihaplanma ve ağrıyı azaltmak, kollajen üretimini arttırmak, bağışıklık sistemini arttırmak, kronik stresi en aza indirmeye, kasları gevşetmeye, kasları gevşetmeye, gövde enerjisinin yükseltilmesine, daha düşük sırt ağrısı, nörodermatiti yükseltmeye yardımcı olmak için vücut sıcaklığını azaltan modern bir cihazdır.
Geniş uygulama yelpazesi:
Yenilikçi kriyoterapi sistemimiz, usulün istenen etkisini elde etmek için cildin yüzeyindeki soğuk hava akışını bir nokta ve kontrollü dozajla eşit bir şekilde dağıtmanıza olanak sağlar.
Yüksek etkili CRYO JETS, VACUACTIVUS Dünya Üreticisinden Soğuk Hava Cihazı ve Tıbbi Uygulamalarda, Spor, Sağlık, Rehabilitasyon Klinikleri ve Cilt Bakımı, Spor, Sağlık, Rehabilitasyon Klinikleri ve Cilt Bakımı, Spor, Sağlık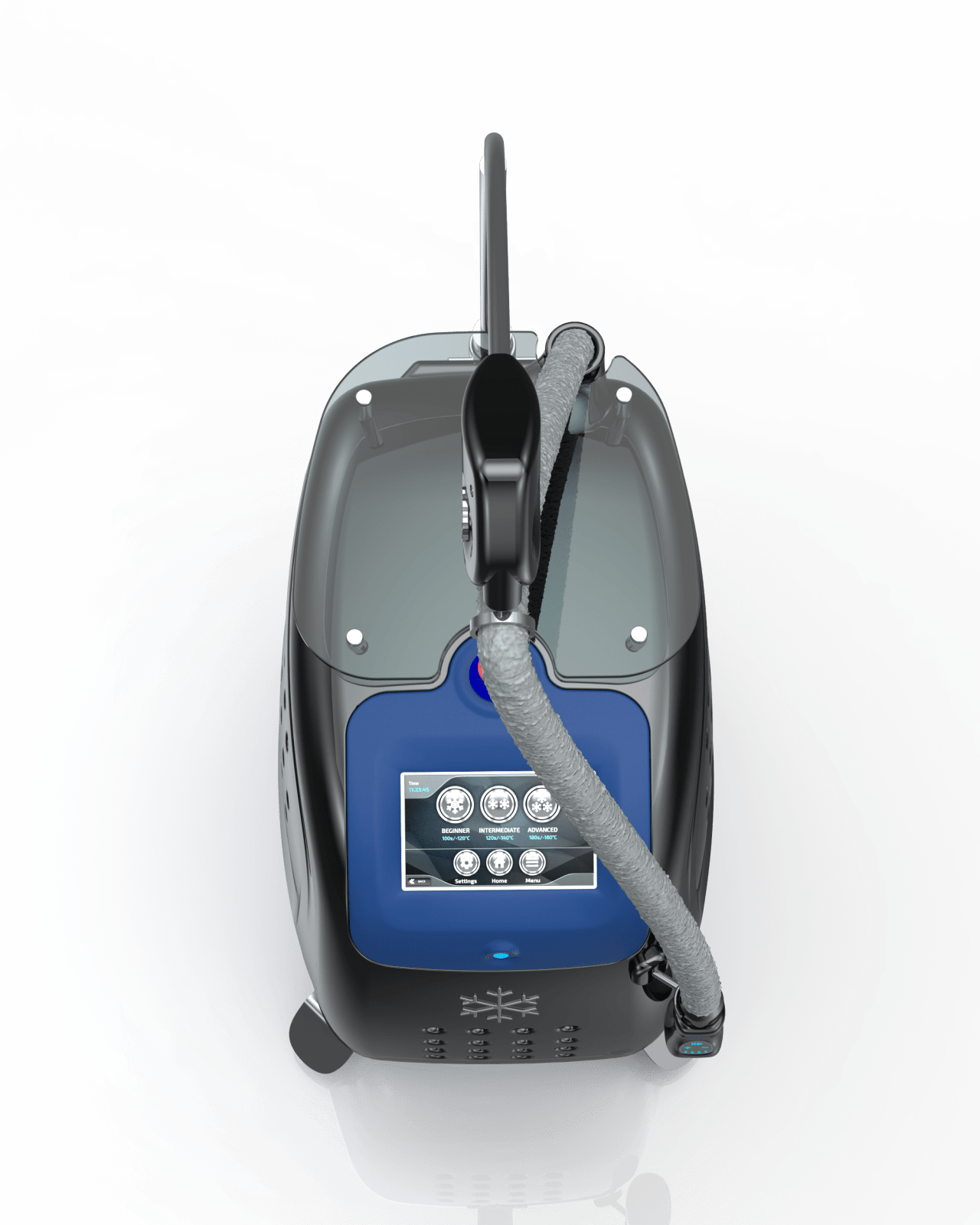 Cryo Jets özellikleri
Cryojets, elektrikli bir kriyoterapi cihazıdır ve tamamen azotsuzdur.
Hava -4 ila -30 C (25 ila -22F) arasındaki sıcaklıklara soğutuldu.
Soğuk hava üfleme yerine buharlaştırılmış azot
Ayarlanabilir hava akımı.
Tamamen kontrollü dokunmatik ekran işlemi
LED Lazer Odak Pozisyon Kolu Ayarlamak İçin Cilt'e
Hareketli / taşınabilir lokalize kriyoterapi cihazı
İnce fit boyutu
Donma riski olmadan yoğun soğutma tedavisi
Ekstra cilt bakımı faydaları için kolu üzerinde led yüz maskesi ile seçenek
What is electrical unit for localized cryotherapy?
CryoJets/CryoFlow is nitrogen free and cooled by electrical temperature converter which used for athletes recovery and muscle relaxation. It used cold air instead vapored nitrogen in other localized cryotherapy machines. CryoJets electrical local cryotherapy unit is used cold air blowing from handle in temperature range between -4 to -30C equal 25°F to -24°F. Cold therapy treatment for specific body area takes around  3 -to 10 minutes per area. Such treatments are very effective for muscles relaxation after intensive fitness workouts, skin recovery, wellness purposes in any sport injuries or body massage. Localized cryotherapy or as called a spot cryotherapy  targeted  more attention to treat a specific body zone with more effective cooling this part. Local cryotherapy can be applied to any specific injured part of the body such as ankle, joint, shoulder, feet, elbow, belly knee, neck.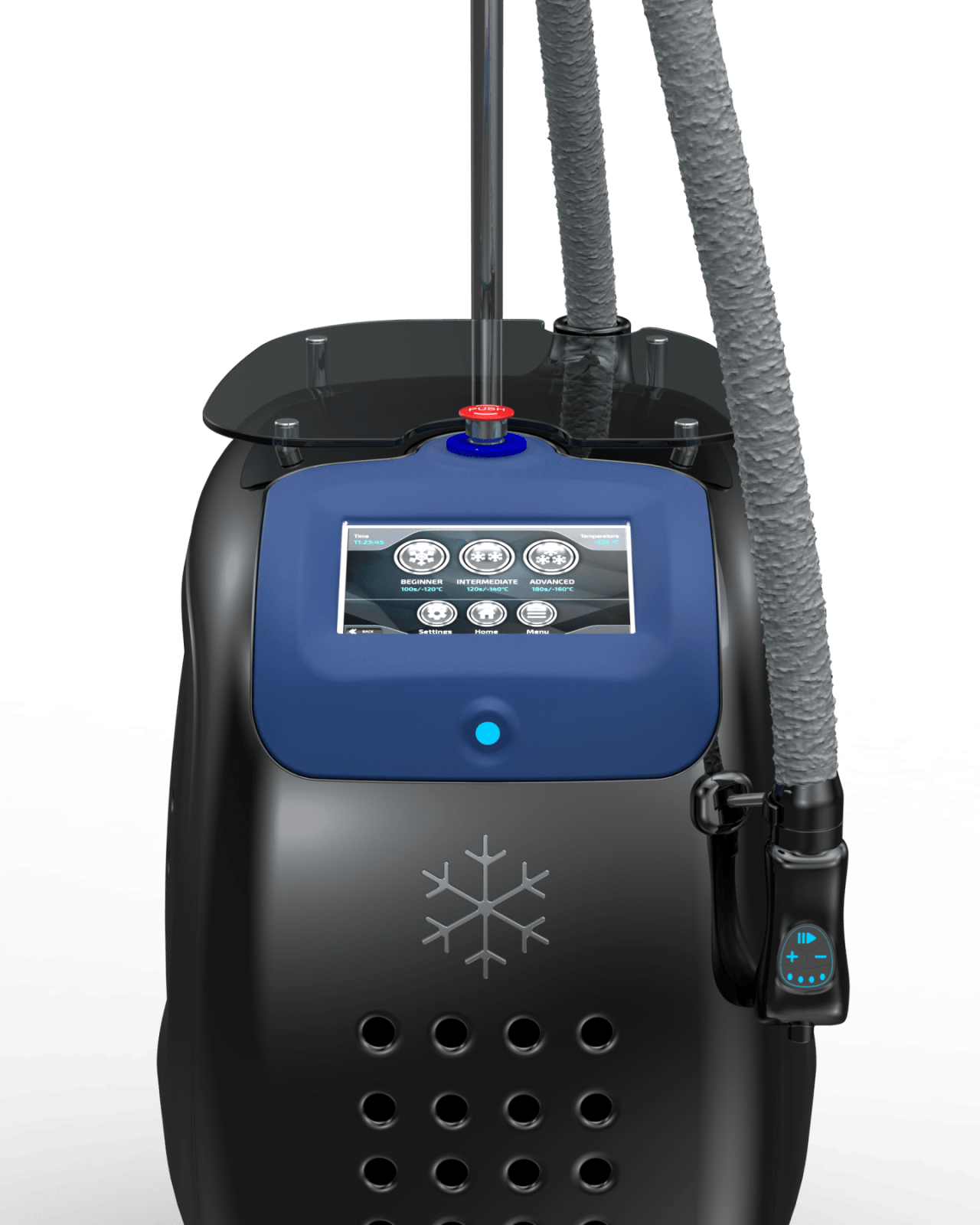 Cryotherapy treatments for face
Electrical unit for localized Cryotherapy also used for cryo facial and improve skin condition. Cold is natural based benefit for skin care. Local Cryo machine can treat specific pain points or can provide an effective skin relaxing for wrinkle releasing facial. Localized cryotherapy is used for skin healing and rejuvenation using cold temperature effect on skin tissue similar to ice pads. A few treatments may observe smaller pores and wrinkle reduction due cold skin relaxation. It means localized cryotherapy making a relaxing facial non-touch massage via cold air blowing. Local cryotherapy is very popular treatment in many beauty centers and skin rejuvenation clinics.
Option with LED mask
CryoJets electrical unit for Cryotherapy as option as red lights handle for more effective cryo facial. This is combination of cold blowing with red lights which is a noninvasive skin treatments for improve skin issues . The treatment uses cool skin with varying wavelengths of light to trigger the skin's natural healing processes to repair the skin. At least 10-20 sessions are requested to see results on face skin. Red lights are improving  scarring and signs of aging and should take affect on improve wrinkles by acting on fibroblasts increasing collagen production. Collagen is a protein in the skin and other connective tissues which plays a significant role in skin healing. Reducing  collagen production in skin due skin aging  shows signs of aging. Increasing collagen production makes improve skin condition, helps faster skin rejuvenation and reducing skin inflammation.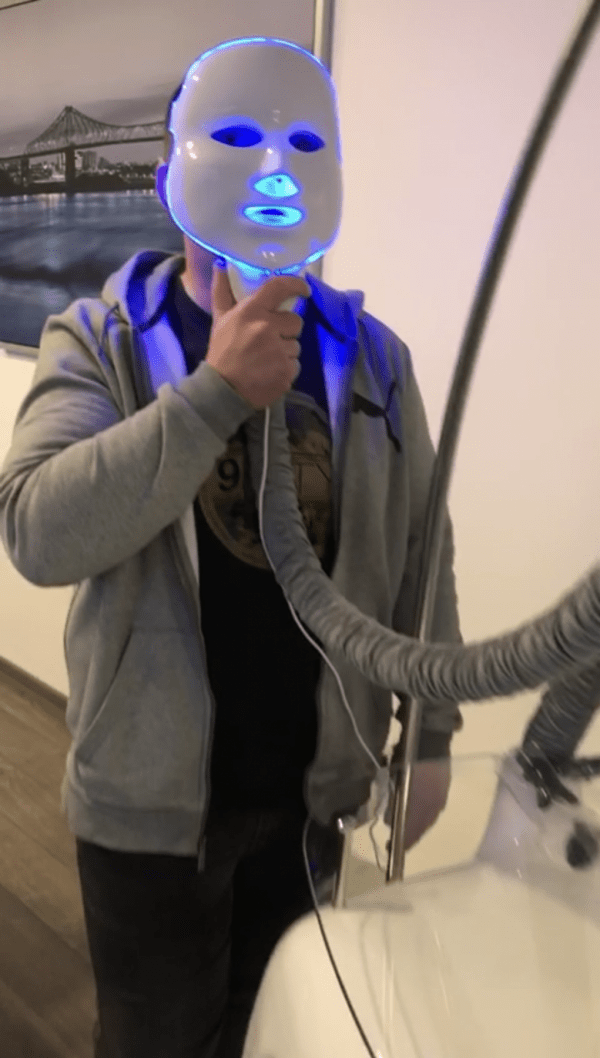 Disclaimer
The Producer informed the Equipment is fitness or wellness purposes equipment for sport recovery and rehab purposes only which are not FDA approved for medical usage or other usage which required FDA.  This is not medical equipment. Current product could not use any adversing description of the Equipment from the Producer's web site or other info ways as a statements of healthcare benefits of the Equipment. Producer shall not liability for all or any statements regarding a healthcare futures and benefits of Equipment which provided to a clients.